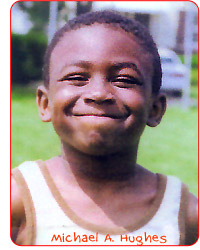 Michael was a wonderful son and brother to two sisters and three brothers. He had a contagious smile that tickled everyone with joy. He loved life and enjoyed the company of his family and friends. He enjoyed sports especially playing football with his brothers. He loved chocolate chip cookies. He enjoyed singing in the youth choir at church. He enjoyed his third grade class, Sunday school, vacation bible school and playing on the playground. He loved to run and throw and catch balls. He enjoyed spending time with his grandmother and telling her little secrets. He enjoyed hearing stories of all kinds that were read to him before he closed his eyes each night.
Born a Treasure
Michael Anthony Hughes was born on the way to the hospital in Berea, Ohio on December 24, 1983 at about 4:28pm. Our family was so happy because he was our Christmas present for that year. At the age of sixteen months Michael was dedicated to God at our family church, Christian Fellowship Center located in East Cleveland. Bishop Bill McKinney is the pastor. Michael enjoyed going to church because he could be a part of the children's church with his brothers and sisters.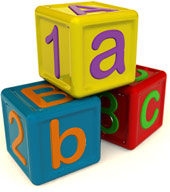 Michael has three sisters and three brothers – Aisha, Ashley, Titanya, Ahmed, Latif, David. As a baby, his sister Aisha would place him in her newspaper carrier bag as she delivered her daily papers around the neighborhood. All the neighbors enjoyed seeing him peek out the newspaper carrier because even as a baby he had a great big smile. He would also sit on his brothers' papers and serve as a paper weight when they were sorting their papers to prepare to deliver them.
Michael started attending the Berea Methodist Church's Nursery School for three days a week when he was only 3 years old. This nursery school was located just across the street from the Baldwin Wallace University where the Cleveland Browns had their training camp. Everyday during the summer and into the fall, he would see the Brown's practicing. I think that was when he began to like football. His brother, David would throw him the football and at this early age, he would watch his older brothers play football with their friends. His brothers called him "The Tagalong". He learned how to ride a two wheeler when he was four years old and he would try to keep up with his sisters when they would ride around the neighborhood. He also liked to swing on the tire swing that was tied to the big tree that we had in our back yard. He also liked to play tag with his brothers and sisters in the backyard.
A Vivid Imagination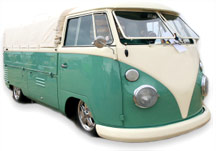 At the age of four years old, he moved with his family to New York. The trip to New York was a real adventure because the family traveled to New York in an old van that they called the Turbo boost Van because it only had two permanent seats and the other seats were folding chairs that would fly to the front of the van. When the family was just about to go over the Throgneck Bridge, the van began to vibrate so much until all the children wanted to jump out of the van because they thought that the van was about to blow up. Fortunately, the van did not blow up and the family made it to the West Hempstead home of their grandmother, Mrs. Gladys Ingram.
Michael started to attend the Davidson Avenue School in September, 1988 where Mrs. Phyllis Wright was the principal. In 1989, after a half year of attending Davidson Avenue, Michael began attending the Maurice Downing Elementary School. Mrs. Stopfer and Mrs. Cole were his kindergarten teachers. He enjoyed going to Maurice W. Downing School and looked forward to getting on the bus every morning to go to school.
Questions from Above
The family started attending the Beth-El Church of God in Christ located on Woodfield Road in West Hempstead, NY. Michael joined the Angelic Choir and sang with this children's choir every 4th Sunday which was Children's Day. The older ladies in the church said that Michael had healing hands because if his little hands touched them when he hugged them or touched their hands, they would feel much better. One evening, Michael knocked on the door of his Mother's room and when she opened the door Michael asked me what would she do if God took him to heaven? Then as suddenly as Michael had entered the room, he left the room and went back out to play.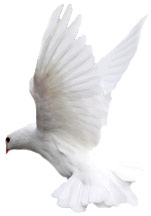 On March 25th, 1993, just six months after he asked that question, he left the house after having his breakfast at approximately 8:25am on his way to his bus stop. At 8:35am Michael's friend knocked on his mother's door and told her that Michael was sleeping on the sidewalk and that he would not wake up. Michael was transported to Mercy Hospital where he was pronounced dead of cardiac failure. Our family later learned that Michael had a rare heart disease called Hydrotropic Subaortic Stenosis. This disorder affects the part of the heart that separates the chambers of the heart which becomes so thick that the blood cannot pass between the chambers so that the heart completely shuts down and the person dies. Children that have this disorder do not live beyond childhood. If this disorder is diagnosed early then the child can have a heart operation and live longer. This same child will also need to have another operation while a teenager so that his/her life will be prolonged.
Michael died never learning how to read. His dream was to read. Michael Anthony Hughes Memorial Library is dedicated in his honor because he loved books.